Edo election: Local Government Areas that will determine Obaseki, Ize-Iyamu's fate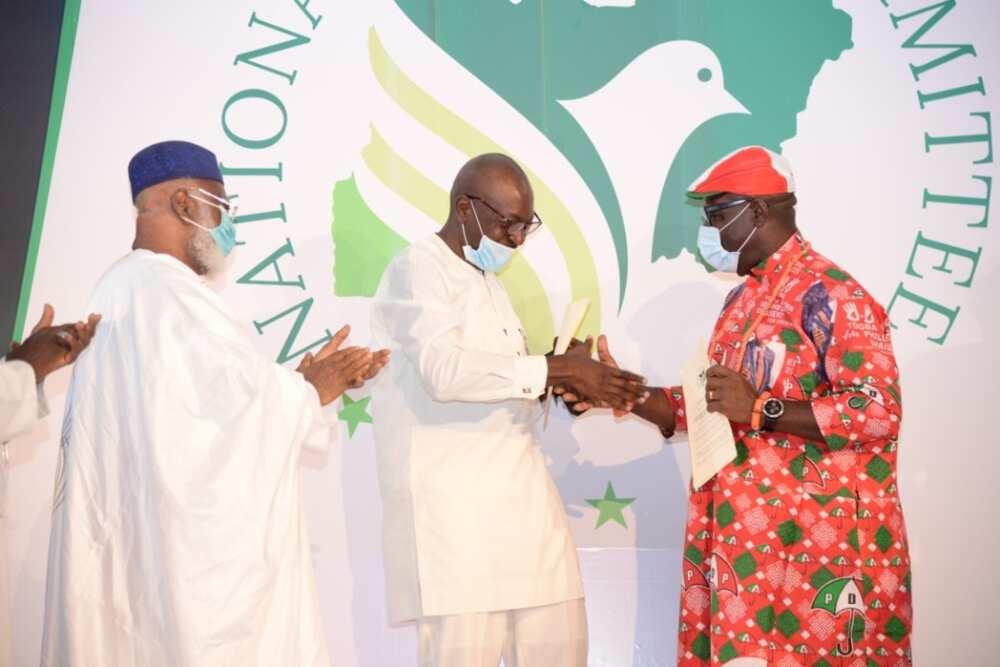 The conduct of the much-awaited Edo governorship election is less than twenty-hours away and the outcome of the poll will either give the incumbent governor of the state, Godwin Obaseki, the opportunity to achieve his re-election bid or enable the opposition to take over the state.
surgenig Nigeria reports that the election would be keenly contested between Governor Obaseki and the candidate of the All Progressives Congress (APC), Pastor Osagie Ize-Iyamu, in what seems like the part two of the 2016 governorship election in the state.
In 2016, Ize-Iyamu was the standard-bearer of the Peoples Democratic Party (PDP) while Obaseki was the candidate of the APC and fortune eventually smiled on him to become the successor of the former governor of the state, Adams Oshiomhole.
The APC candidate, Osagie Ize-Iyamu and Governor Obaseki embrace each other during a peace meeting. Source: Facebook Four years after, both actors have alternated their political parties and time will tell who will become the next governor of the state. Edo state comprises 17 local governments and these are spread in the three senatorial districts in the state – Edo south, Edo north and Edo central. In terms of the collection of registered voters and Permanent Voters Cards (PVCs), Edo south is the dominant district in the state. In the analysis of YIAGA Africa, the Edo south has 1,281,414 registered voters, adding that in the zone, 78.1% of the PVCs have been collected. It said that Edo north has 564,122 registered voters and that 84% of the PVCs have been collected.